SEO Site Tools – Google Chrome Extension
Having your web site highly ranked by search engines is crucial to being found on the web. SEO (Search Engine Optimization) is a important consideration from the outset of designing your site. Monitoring your SEO and comparing your site to other sites is also important. A good tool to use in monitoring and comparing is a browser extension for Google Chrome called SEO Site Tools. Just search for "SEO Site Tools" in the Chrome Web Store and then click the Extensions tab. Below is a screen shot of it from the Chrome Web Store.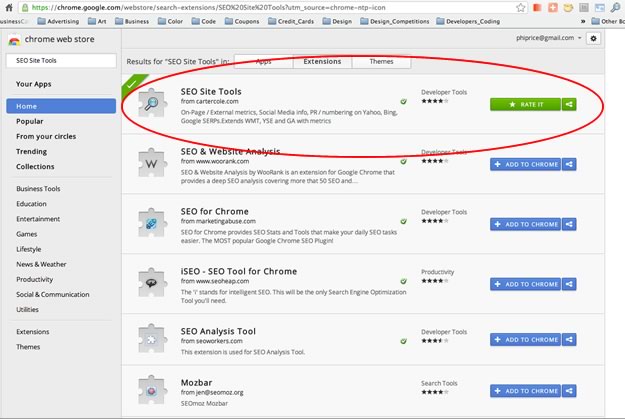 Just click the ADD TO CHROME button to install it in your browser. Once installed, you can launch it while visiting most any web page. It will give you all sorts of information like Google PageRank, Indexed Pages and the Page Cached date. It also pulls data from Bing, Yahoo, Quanticast, Alexa and lots more. It offers critiques and suggestions for improving the page and even lists social media interactions for that page. It's a lot of information at your fingertips, so take a little time to get used to analyzing pages. Compare your site to similar sites to see how you stack up. Below is a screen grab of the extension at work.